Featured Drainage Project
Location: Frisco, Texas
Project Description:
Client was unable to flush the toilets or drain their bathtubs during heavy rains. A common mistake, the septic system was installed in the wrong location, in an area of the property prone to flooding.
Advantage Drainage installed a surface drainage system to capture and redirect the water. We then repaired and resodded the yard once the backyard drainage system was installed.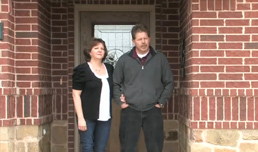 Client: The Morales Family
Cleburne, Texas
---
More featured projects...
---
Our Services
A+ Rating with the BBB!
Servicing Dallas and Tarrant County
Established in 1978 and built on a solid reputation of integrity, quality and reliability, Advantage Drainage understands the customer's needs. Our expert knowledge equips us to handle even the most challenging drainage situations.
Residential Drainage Services
Commercial Drainage Services
Testimonials
Hear what customers are saying about Advantage Drainage
Advantage Drainage has been helping both Residential and Commerical residents solve their drainage problems for over 30 years in the Dallas, Fort Worth Metroplex. Watch our online video testimonials to learn more about how Advantage Drainage continues to help solve a wide range of drainage problems across North Texas.