About Us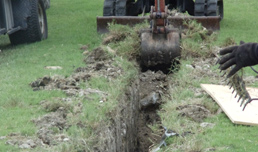 Drainage is an unregulated business. Anyone—landscapers, plumbers, or sprinkler companies—can put a pipe in the ground and call it drainage. However, Advantage Drainage customers all over the Dallas - Fort Worth Metroplex, throughout Dallas County and Tarrant County*, know that our drain solutions stand apart as time-tested and proven. We have been designing drainage solutions and installing French drains, surface drains, sump pumps, and other drain systems for over 30 years.
Advantage Drainage solutions integrate multiple layers of protection to stop flooding now and in the future. We have the specialized tools and equipment to deal with North Texas soils. We can access hard to reach areas—below ground level, preconstruction sites, underneath landscapes or buildings—to stop basement flooding, standing water, blocked drainage, etc., at its source.
The experts at Advantage Drainage do not use generic solutions. We will develop a unique, individual design for your particular drainage needs. We assess your specific landscape and design elements (grading, swales, contours, etc.), the structure of your home, and even neighboring areas, and provide a written estimate on the spot (in most cases.) Our designs ensure that the water flow and drainage on your property get properly addressed and thoroughly planned for.
Our designs do not just work; they work beautifully. The experts at Advantage Drainage are landscape and turf friendly. We make every effort to match the existing design elements of the property, such as stone type or rock cut. We use directional boring under the driveway to avoid saw cutting your drive. As part of our Go Green! initiative, we offer a line of recycled pipe for the environmentally conscious consumer.
Flooding, leakage, yard drainage, wet basements, and other water problems mean damaging consequences for your property. Ignoring or improperly addressing a drainage problem, such as moisture under a slab foundation or water in the crawl space of a pier and beam structure, could lead to rotting wood, buckling wood floors, insect infestations, and costly foundation repair issues. Advantage Drainage cannot only help you avoid the potential damage to your property value, but we can also give you back your peace of mind and quality of life.
A large percentage of our business consists of redoes of drainage work attempted by landscapers and sprinkler companies. Save yourself time, money, and frustration by contacting our team of experts to do the job right the first time. Or call us to get the problem fixed once and for all. Our combination of experience, ingenuity, and specialized training cannot be beat. Let Advantage Drainage help you today.
*Service areas also includes Arlington, Garland, Irving, Plano, Carrollton, Denton, Frisco, Grand Prairie, McKinney, Mesquite, Richardson, Addison, Allen, Bedford, Benbrook, Burleson, Cedar Hill, Cleburne, Colleyville, Coppell, Corinth, Crowley, Desoto, Duncanville, Euless, Flower Mound, Grapevine, Greenville, Haltom City, Highland Village, Hurst, Keller, Lancaster, Lewisville, Little Elm, Mansfield, North Richland Hills, Saginaw, Southlake, The Colony, University Park, Watauga, Weatherford, White Settlement, Wylie, Edgecliff Village, Eagle Mountain, Highland Park, Dalworthington Gardens, Pantego, Willow Park, Westworth Village, Westover Hills, Trophy Club, Rendon, Richland Hills, River Oaks, Roanoke