Poor Landscape Drainage Can Ruin Your Dallas Fort Worth Lawn
As a Dallas/Fort Worth resident, we know that you take pride in your lawn. Whether you hire a landscaper to manicure it on a weekly basis or you like to get out there and get your own hands dirty, you sacrifice a great deal to maintain the best look and feel possible. But all that work is in vain if you have problems with landscape drainage, Dallas.
Want to end your drainage issues? Contact us now and discover how we can help!
Customized Solutions to Complement Your Yard-Landscaping Drainage Dallas
If you're like many homeowners, you are probably a bit wary of having someone come in and install a drainage system in your yard. Typically that's because you're scared that the drainage will destroy the look you've strived so hard to achieve.
For this reason, we make every attempt to customize our drainage solutions to match your existing property design. This could include everything from the cut of your stone to the type of rocks you use in your yard.
The Problem with Poor Landscape Drainage
Maybe you're thinking, "What's the big deal with a little water in my yard? Could it really hurt anything?" Well, the answer is a resounding YES. Here's what could happen if you don't fix the issue:
Your foundation could crack
Your basement walls could buckle
Mold and mildew could enter your home
You could develop a pest problem
And that's just scratching the surface.
You Need a Landscape Drainage Dallas Specialist
We fully realize that we aren't the only people in the Dallas/Fort Worth area who can come in and provide you with landscape drainage. However, we believe that we're your best bet. That's because:
We are highly rated by the BBB - You want complete customer satisfaction? According to the Better Business Bureau, not to mention all our satisfied customers, that's exactly what we offer you.
We fix other company's "solutions" - A good portion of our business comes from improperly installed drainage. That means we're the guys people call on to fix other company's botched jobs.
We're experts in the field - How do you become an expert? By experience. And we have lots of it-over three decades, to be exact!
Let Us Install Your Landscape Drainage, Dallas
Whether you're dealing with puddles that just won't go away or water sitting up against the foundation of your home, you can depend on Advantage Drainage to come to the rescue.
Call us today and receive a no-obligation estimate on landscape drainage Dallas!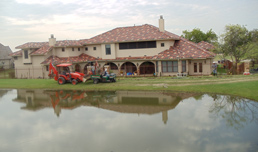 Residential Properties
Providing the DFW Metroplex with high quality and practical solutions to solve any drainage problem, while preserving and protecting each client's property's aesthetics and value.

testimonials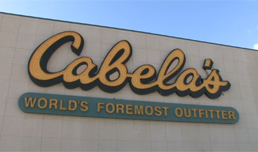 Commercial Properties
With over 30 years of experience in the industry and thousands of drainage projects successfully completed, our professionals can fix any size drainage problem.
testimonials